The NIH Unified Communications & Collaboration (UCC) team now offers the Webex Enterprise Suite as a key component of its UCC solution. This enterprise suite includes a wide range of web conferencing options for small and large-scale meetings. The suite uses Webex Meetings Desktop App to allow participants to collaborate using integrated Microsoft Office applications that enable access to a meeting, training session, or large-scale event via desktop software clients such as Cisco Jabber or MS Lync. Some meeting rooms are even accessible via a smartphone or tablet.
Our Webex Enterprise Suite is available with the following meeting rooms:
+
Personal Rooms (for recurring meetings)
+
Meeting Center (for internal and external meetings)
+
Event Center (for large-scale online events)
+
Training Center (for interactive online training and e-learning)
To setup a Webex account, submit a request to the NIH IT Service Desk including the following information:
| | |
| --- | --- |
| | Your First and Last Name |
| | Your sponsoring Institute or Center |
| | Your official email address |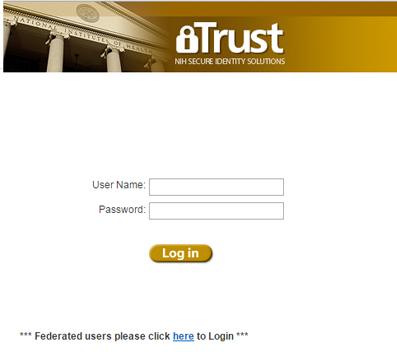 Webex is fully integrated with NIH and Federated login. For Webex federated login, please refer to the "NIH Federated Login" section.
Instructions for Logging into Webex for NIH Users
To setup a Webex account, follow these steps:
1- Use your browser to navigate to: https://nih.Webex.com.
2- Select "Log In" from the right-hand side of the top navigation bar.
3- Log in with your NIH or PIV card credentials.
4- Download theWebex Meetings Desktop App (optional).
5- Once NIH or PIV card credentials have been verified, you will be able to create and host Webex meetings.
+
NIH Federated Login
+
NIH External Account
The Webex service and its features are available to the entire NIH community at no charge, with the exception of the closed captioning services. Fees apply for closed caption services because these services are provided through a third-party captioning service vendor (see below for more details).
Note: Additional fees will apply for closed captioning services, which are procured through a third-party captioning service vendor. Fees range from $175 - $263 per hour, billed in quarter-hour increments. CIT must receive caption requests no fewer than three full business days in advance of the event to be captioned. While we make every effort to secure a captioner on shorter notice, there is no guarantee that we will be able to support your request within anything less than a three-day time frame.
Contact the Office of Research Services (ORS) - NIH Events Management for an estimate and work order number.
Email: nihevntsmgt@mail.nih.gov
Phone: (301)-496-9966
+
Data Protection
+
Webex Toll-Free Number Restriction
+
Storage Retention
+
Service Accounts Restriction
Have questions?
If you have questions or concerns about this change to Webex, contact the NIH IT Service Desk online at http://itservicedesk.nih.gov/support or by phone at 301-496-4357 to speak to a service desk agent or to submit a ticket for further assistance.


For an overview of Webex usage statics and updates to NIH Web Collaboration Service policies such as storage, toll-free restriction, and Adobe Connect retirement, please see this presentation to the NIH IT Service Desk Advisory Group (pdf) from March 22, 2017.
Best Practices for Securing Webex Meetings
Use the following guidelines for securing your Webex meeting to ensures the confidentiality of your meetings and helps prevent fraud.
Microsoft ended support for Windows XP in April 2014, and Cisco ended support for Webex running on Windows XP in January 2015. Because of this, Cisco no longer provides updates for Webex running on Windows XP or fixes for Windows XP-related issues.
To avoid issues running Webex on Windows XP, Cisco strongly recommends upgrading to a supported version of Windows.
Contacting Webex Support
If you are experiencing interruptions with any Cisco Webex services, including Webex Messenger and Meeting services, please call the Webex Help Desk at +1-866-229-3239 or +1-408-435-7088. You may also open a ticket online at Webex support.
Webex System Requirements
Downloads and Add-ons
Troubleshooting
| | | |
| --- | --- | --- |
| | You can quickly fix problems you might experience in a Cisco Webex meeting by visiting the Cisco webpage on Addressing Technical Issues. | |
Self-Service Technical Support

To submit a support case:
1. Login to http://nih.Webex.com
2. Click the "My Webex" tab located on the top menu bar. Select "Submit a Support Request" from the left-navigation menu.
Webex Knowledge Base: https://help.webex.com/?language=en-us
Submit Support Case: https://help.webex.com/contact?language=en-us
Customer Service
For questions related to product features and functionality, contact Webex Technical Support at 1-866-229-3239 (available 24 hours a day, 7 days a week).
For account related questions or other issues, contact the NIH IT Service Desk at http://itservicedesk.nih.gov/support or call (301) 496-HELP (4357), 301-496-8294 (TTY), or 866-319-4357 (HELP).
Test a Webex Meeting
Want to make sure Webex works on your computer? Try a test meeting. (Login Required)