The NIH Unified Communications & Collaboration (UCC) team now offers the WebEx Enterprise Suite as a key component of its UCC solution. This enterprise suite includes a wide range of web conferencing options for small and large-scale meetings. The suite uses Cisco productivity tools to allow participants to collaborate using integrated Microsoft Office applications that enable access to a meeting, training session, or large-scale event via desktop software clients such as Cisco Jabber or MS Lync. Some meeting rooms are even accessible via a smartphone or tablet.
Our WebEx Enterprise Suite is available with the following meeting rooms:
+
Personal Rooms (for recurring meetings)
+
Meeting Center (for internal and external meetings)
+
Event Center (for large-scale online events)
+
Training Center (for interactive online training and e-learning)
To setup a WebEx account, submit a request to the NIH IT Service Desk including the following information:
| | |
| --- | --- |
| | Your First and Last Name |
| | Your sponsoring Institute or Center |
| | Your official email address |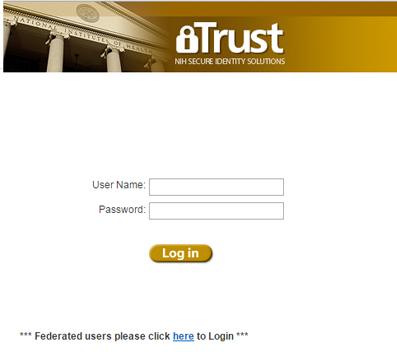 WebEx is fully integrated with NIH and Federated login. For WebEx federated login, please refer to the "NIH Federated Login" section.
Instructions for Logging into WebEx for NIH Users
To setup a WebEx account, follow these steps:
1- Use your browser to navigate to: https://nih.webex.com.
2- Select "Log In" from the right-hand side of the top navigation bar.
3- Log in with your NIH or PIV card credentials.
4- Download the WebEx Productivity Tools (optional).
5- Once NIH or PIV card credentials have been verified, you will be able to create and host WebEx meetings.
+
NIH Federated Login
+
NIH External Account
The WebEx service and its features are available to the entire NIH community at no charge, with the exception of the closed captioning services. Fees apply for closed caption services because these services are provided through a third-party captioning service vendor (see below for more details).
Note: Additional fees will apply for closed captioning services, which are procured through a third-party captioning service vendor. Fees range from $175 - $263 per hour, billed in quarter-hour increments. CIT must receive caption requests no fewer than three full business days in advance of the event to be captioned. While we make every effort to secure a captioner on shorter notice, there is no guarantee that we will be able to support your request within anything less than a three-day time frame.
Contact the Office of Research Services (ORS) - NIH Events Management for an estimate and work order number.
Email: nihevntsmgt@mail.nih.gov
Phone: (301)-496-9966
Audio
WebEx Audio allows meeting attendees to talk to one another via telephone and/or computer (VoIP). Each participant can select an audio mode preference when entering a meeting and can switch modes without interruption to the session.
When selecting WebEx Audio, you have the option to display the toll-free number or display global call-in numbers for attendees around the world. The meeting host can choose to receive an audio alert when attendees enter and leave the session (beep or announce name) or no tone.
If a host selects the VoIP-only audio conferencing mode, then participants must join via a computer.
Chat conversations
Desktop Sharing
Desktop/Files sharing
Participant lists
Polls
Q&A
Recording
Storage
Video
+
Other Helpful Links
WebEx Toll-Free Number Restriction
The NIH Unified Communications and Collaboration (UCC) team is enacting a new policy that restricts access to all WebEx toll-free phone numbers effective immediately. This means that while hosts and participants will still have free audio options for their meetings, toll-free phone numbers will no longer be available. This change will allow NIH UCC to continue offering WebEx services without any additional cost to customers.
Is Toll-Free audio still available?
For free audio, hosts and participants can still use the Call Using Computer option and the Call Me option (free within the United States and Canada. Long-distance charges may apply to international callers).
+
Available Calling Options
How does this change affect the options in WebEx?
The same audio options—Call Using Computer, Call Me, I Will Call In Domestic, I will Call In Global, and Personal Room teleconference—are still available in WebEx. For the I Will Call In and Personal Room teleconference options, only regular toll phone numbers will be available, and carrier charges may apply. No toll-free numbers will be provided. This applies to all business centers: Meeting Center, Training Center, and Event Center. For more information, see the overview of pros and cons for WebEx audio options.
The following table shows the audio (sound) options available in WebEx, the type of line or connection method available for each option, and usage cost information for each option.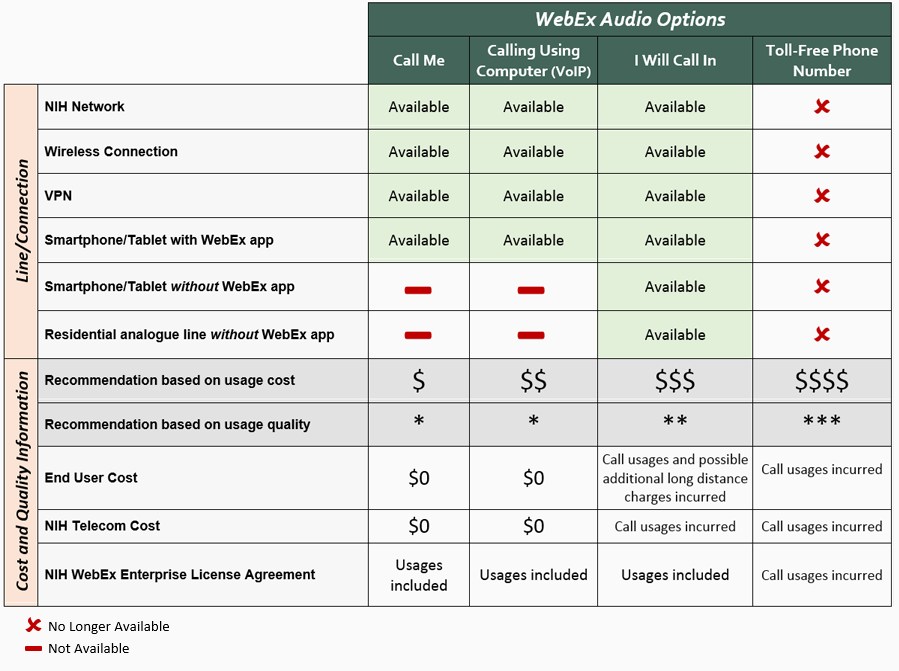 What do I need to do?
All WebEx hosts who have recurring meetings scheduled have the following options:
Have questions?
If you have questions or concerns about this change to WebEx, contact the NIH IT Service Desk online at http://itservicedesk.nih.gov/support or by phone at 301-496-4357 to speak to a service desk agent or to submit a ticket for further assistance.


For an overview of WebEx usage statics and updates to NIH Web Collaboration Service policies such as storage, toll-free restriction, and Adobe Connect retirement, please see this presentation to the NIH IT Service Desk Advisory Group (pdf) from March 22, 2017.
The UCC team will provide 250MB of storage by default to all WebEx host accounts without date limitations. Hosts are responsible for managing their recordings and content within the allotted storage quota. WebEx hosts can retrieve their storage quota information within the WebEx centers under the following headings; "My Recorded Meetings", "My Training Recordings", and "My Event Recordings" areas. WebEx is not intended to be used as a long term archival storage solution. Once the recording sessions have been completed, customers are required to remove the recordings from the WebEx system to their alternative source. Customers who exceeded the 250MB limit will receive a warning notification indicating that they have reached the storage quota limit.

Alternate storage options:

To prevent exceeding the 250MB storage threshold, customers should make use of alternate options available for both types of WebEx storage:

From the WebEx session choose to record the meeting to the local PC hard drive or other designated storage location.
For existing recordings: Identify the recorded meetings you want to keep, and download the recoding(s) to your local PC hard drive or other designated storage location. Step-by-step instructions can be found at: Record your WebEx Meeting, Event, or Session
WebEx storage can be retained for up to 6 months.
Adobe Connect related
The existing legacy web conferencing system Adobe Connect will be retired and decommissioned by Fall 2017. Adobe Connect hosts should identify alternative storage solutions for the meeting content they would like to keep archived.
As of January 2015, Cisco no longer supports Windows XP and no longer provides fixes for any issue(s) with Windows XP that requires Microsoft changes. Because Microsoft will no longer provide updates for Windows XP, Cisco will be unable to fix Windows XP-related issues that may arise.
To avoid any unwanted issue(s), Cisco strongly recommends that you upgrade to a supported version of Windows.
To Contact Support
If you are experiencing interruptions with any Cisco WebEx services, including WebEx Messenger and Meeting services, please call the WebEx Help Desk at +1-866-229-3239 or +1-408-435-7088. You may also open a ticket online at WebEx support.
New in WebEx
We've updated WebEx, and the new version boasts multiple improvements to your meeting experience, including a new interface, the ability to share multimedia files, more easily assign alternate hosts, and other features to make your meetings more user friendly:
Updated personal room and avatar

The Personal Room has a new look and feel, with upgraded features that allow for a more personalized interface. The new user avatar feature allows hosts to upload their picture or a graphic image to their presence indicator to make their personal room or presence easier to recognize

Share multimedia

Screens and documents are no longer the only things you can share on WebEx. In this version, you can share videos and other multimedia files with your attendees.

Call in to start your meetings

You don't need a computer anymore to start your WebEx meeting; now all you need is your phone. To call in to and start meetings in your personal room from your phone, you must use a host PIN. You can either enter your own PIN or use the one that is auto-generated for you (when you first log into the site you will be given a pop up screen like below), by clicking either Save or Save and Try. Once you have set a host PIN, you should not see this message again when you log back into the site. You can change your PIN by selecting Preferences -> My Personal Room under the My WebEx tab.

Assign alternate hosts

If you use WebEx for group meetings, you've likely encountered the dreaded five minutes of mandatory waiting before you can start a meeting without your host. The new WebEx features include a checkbox on your meeting invite that enables you to allow anyone with a host account to start your meeting if your original host is delayed.

Leave a meeting without ending it

If your host needs to jump on another call or WebEx meeting, this option allows them to do so without ending your meeting prematurely by simply selecting a new host for the meeting from the available attendees.

Remote code execution vulnerability and Firefox version 52 compatibility issues resolved:

The upgrade to WebEx resolves a vulnerability in Cisco WebEx browser extensions that could have allowed an unauthenticated, remote attacker to execute arbitrary code with the privileges of the affected browser on an affected system. Additionally, the upgrade also resolves compatibility issues between the previous version of WebEx and Firefox version 52.

Collaboration Meeting Rooms (CMR)

As an add-on for WebEx Meeting Center, the new Collaboration Meeting Rooms (CMR) allow the NIH community to meet, collaborate, and stay productive with anyone from any mobile device or standards-based video system (providing video address), including Microsoft Lync or Microsoft Skype for Business., CMR will replace UCC's current TelePresence service option for scheduling WebEx meetings with video endpoints.